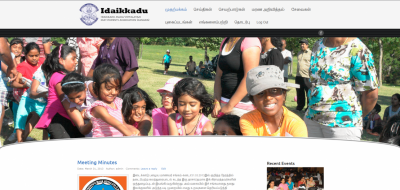 A new version of the website was released today written using WordPress. It's still in beta, so there will be a lot of changes forthcoming. The website was launched early so that it can start handling new content for the year.
Milestones
Transferred idaikkaduweb.com, idaikkadu.net and idaikkadu.org to another hosting provider. Response time is improved, and costs have been cut in half. (I'm sharing the hosting account with another website that I host – win, win)
Assigned a dedicated IP address to idaikkaduweb.com
Installed a self-signed certificate for HTTPS use on idaikkaduweb.com. Only using HTTPS for the admin pages for now. I would like to use full HTTPS for the entire site since HTTP -> HTTPS transitions are subject to ssl stripping attacks. Unfortunately, self-signed certificates present security exceptions to users. I don't think most of our user's would know how to proceed past the warning.